Control of Cutting and Plotting Machines, Vector Converters and Book Folding Pattern Maker
Desktop Interface to Online File Converter V1
Description
This is a desktop interface to the Ideas R Us Software online converters, for paid subscribers only. It will batch convert the selected files using the online converter server, then download the converted files (now in SVG) to the specified folder.
The three file types that are supported are FCM (Brother, Scan and Cut), GSD (Graphtec, Craft ROBO), and Studio (Silhouette America, Silhouette Studio).
Conversions or credits will need to be purchased from http://www.ideas-r-us-software.uk/Shop/ShopProducts.aspx.
System Requirements
Requires Windows XP, Windows Vista, Windows 7, Windows 8.x or Windows 10.
Microsoft® .NET Framework 3.5 with Service Pack 1 (download from Microsoft)
At least 4 MB of hard disk space
At least 22 MB of memory
Screen Shots
This shows that FCM files have been found in the sub-folder FCMTestFiles.
The Main Form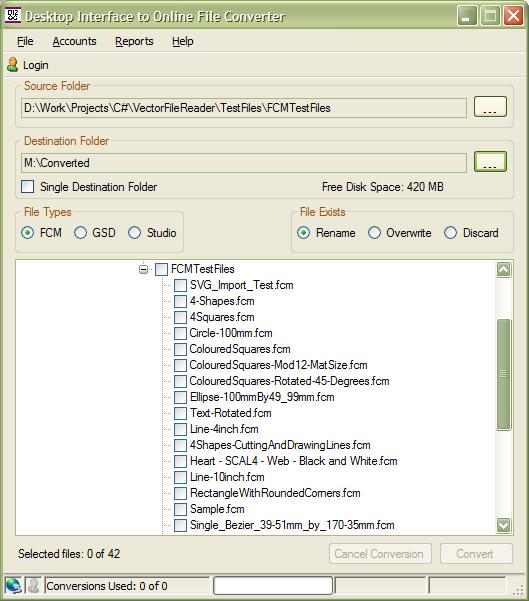 Terms and Conditions
No selling or renting of the executable file
Don't distribute the executable file, link it to this website
Report any issues via the forum
There is no association between the author of this website and Brother, Graphtec or Silhouette America.