Control of Cutting and Plotting Machines, Vector Converters and Book Folding Pattern Maker
Cutter Controller V1
Description
The application (cutting software) is mainly targeted at users who do paper crafting, scrap booking, card making and general crafting, but can be used to do vinyl cutting and vinyl sign making.
The application will work with most existing software that can read or manipulate vector drawings, such as Adobe Illustrator, CorelDRAW and Inkscape. The application is basically a post processor that will perform various operations on the vectors to make them suitable for cutting with a drag knife (or a pen or a pricking/punch tool), such as adding a small overlap when cutting and reducing duplicate vectors. This is similar to SignCut Pro.
It can control electronic cutting machines (also known as digital die cutters), vinyl cutters and pen plotters. The command languages supported are HPGL (Hewlett-Packard Graphics Language) and DMPL (Digital Micro-processor Plotter Language).
The vector files (cutting files) supported are DXF (Document Exchange Format), EMF (Enhanced Meta File), FCM (Brother), GSD (Graphtec), PDF (Portable Document Format), Studio/Stidio 3 (Silhouette America) and SVG (Scalable Vector Graphics).
Main Features
There are three methods of importing a vector drawing into the Cutter Controller application: -
Opening a file (DXF (R14), EMF, FCM (Brother), GSD/GST (Graphtec), PDF (1.4), Studio/Studio3 (Silhouette America) and SVG/SVGZ (1.1)), or dragging a file onto the drawing canvas
Using a plug-in to export the drawing from CorelDRAW (at least version 10)
Copying and pasting the drawing using the clipboard (EMF, MTC, SVG)
Export the drawing as FCM (Brother), with the thumbnail in colour
All the commonly used functions are shown on the main form
The User Interface (UI) changes to match the capabilities of the cutter being used
Automatically scales and shift the drawing to fit the selected mat/roll if the drawing is too large
The cutting head and direction is shown as an overlay to make it easier for a user to position the drawing on the cutting mat/roll
The full release has a Max Width = 1,250mm (49.213"), Max Length = 50,000mm (1968.504")
Supported Machines

Black Cat (www.blackcatcutters.com); Cougar, Cougar+ (Cougar Plus), Cougar Pro and Lynx
Foison (www.foison.net.cn/en/home.asp); 'C' Series
Klic-N-Kut or KnK (www.knkusa.com); MAXX, MAXX Air, and Zing
Phoenix (www.thymegraphics.co.uk and www.silverbulletcutters.com); Silver Bullet
Provo Craft Cricut, Personal, Create, Expression, Cake and Cake Mini
Secabo (www.secabo.com); CIII Series
All the models listed above are based on models by Foison (known as badge engineering)
Generic HPGL language support that allows most cutters to be controlled, but without the none supported functions being disabled (you will be able to use a mat or roll that exceeds the machines capabilities)
Create (or edit) own custom cutter or plotter driver
System Requirements
Requires Windows XP, Windows Vista, Windows 7, Windows 8.x or Windows 10.
Microsoft® .NET Framework 3.5 or higher
At least 9 Mega Bytes of hard disk space
At least 1 Giga Byte of memory
A USB or Serial COM ports
At least 30MB for the virtual printer driver (if used)
The Main Form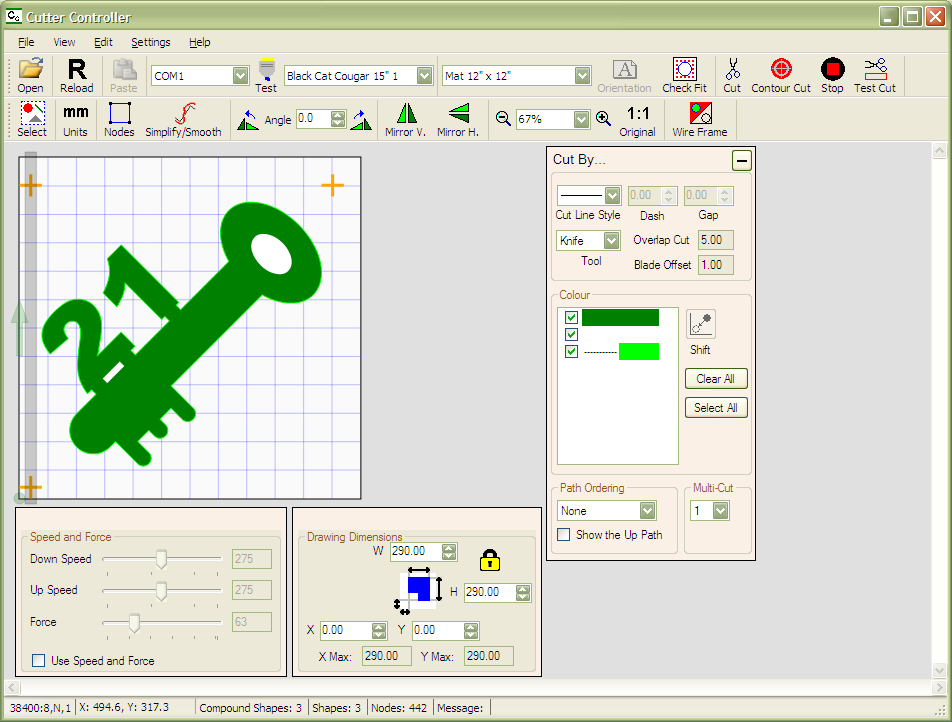 Terms and Conditions
No selling or renting of the executable file
Report any issues via the forum